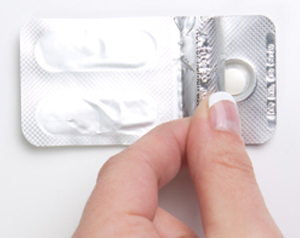 Step 1
Peel back the cover of the blister pack. Do NOT push the tablet through the packet. Take 1 Sitavig out of the blister pack. When removed from the blister pack, Sitavig must be used right away. Sitavig is round on one side and flat on the other side.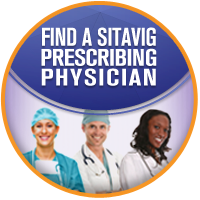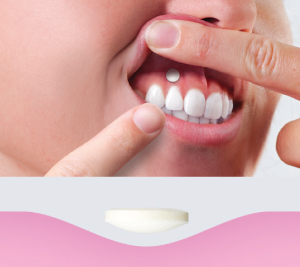 Step 4
Place the flat side of Sitavig on your dry fingertip. Apply the round side of Sitavig to your upper gum. The flat side will be facing the inside of your lip.
When you apply Sitavig, find the area on your upper gum, just above either the left or the right incisor. The incisor tooth is the tooth just to the right or left of your two front teeth. This is where you should apply Sitavig.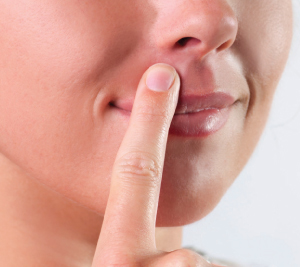 Step 5
Hold Sitavig in place by applying a slight pressure with your finger on the outside of your upper lip, over the area where Sitavig is placed, for 30 seconds. This will help Sitavig stick to your gum.
Leave the Sitavig tablet in place until it dissolves (tablet needs to be in place for 6 hours, but may take up to 14 hours to dissolve).
Indication & Important Safety Information
INDICATION
Sitavig® (acyclovir), 50mg Muco-Adhesive Buccal Tablet is indicated for the treatment of recurrent herpes labialis (cold sores) in immunocompetent adults.
IMPORTANT SAFETY INFORMATION
Sitavig should not be used in patients with known hypersensitivity to acyclovir, milk protein concentrate, or other components of the product.
Sitavig has not been studied in pregnant women or in immunocompromised patients and no interaction studies have been performed. Sitavig's safety and efficacy have not been established in pediatric patients.
Sitavig is a Pregnancy Category B product; therefore it should be used during pregnancy only if the potential benefit outweighs the potential risk to the fetus. It is not known if Sitavig is excreted in breast milk; however, systemic absorption is minimal.
In a controlled clinical trial Sitavig's most common side effects (greater than or equal to 1%) were: headache (3%), dizziness (1%), lethargy (1%), gingival (gum) pain (1%), aphthous stomatitis (canker sores) (1%), application site pain (1%), application site irritation (1%), erythema (1%) and rash (1%). In the same trial these side effects ranged from 0%-3% for placebo.
You are encouraged to report negative side effects of prescription drugs to the FDA. Visit www.fda.gov/medwatch.com or call 1-800-FDA-1088.
Click here
for
Full Prescribing Information
.